52 FORAYS INTO FLASH MEMOIR
This Is How We Dance
By DAVID DIEBOLD
From struggling actor to wannabe cook, aspiring filmmaker, and national newspaper hack, David Diebold's unconventional life has placed him in some bizarre and precarious predicaments.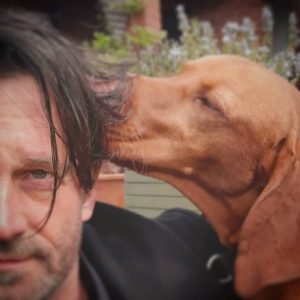 David Diebold has written for The Irish Independent, Irish Daily Mail and for The Herald, where his regular weekly column of seven years made the judges' shortlist for the National Newspapers of Ireland Feature Writer of the Year award in 2011, and NewsBrand Ireland Popular Columnist of the Year in 2016.
His writing featured in Press Gang, Tales from the Glory Days of Irish Newspapers (New Island, 2015), and in Spontaneity magazine. A collection of his weekly parenting columns The Family Guy will be available as an Amazon eBook titled Diary of a Wimpy Dad. A native of California, he lives by the sea, near Dublin, Ireland, with his wife and four children, and up to six dogs at any given time.

'Surprisingly moving and extremely witty. Frankly, I'm amazed. I didn't think he had it in him'

— Ian O'Doherty, IRISH INDEPENDENT
'Wise, funny and profound vignettes of family life, foreign escapades and eulogies to the fallen; flash memoir that actually reads like The Great Irish-American novel'

— Nick Kelly, BROADSHEET.IE
'Penned with dazzling panache and great wisdom, This Is How We Dance is both a survivor's tale and a survival manual for anyone who's gotten mixed up with the sticky business of families'

— Damian Corless, CHRISTY DIGNAM: MY CRAZY WORLD